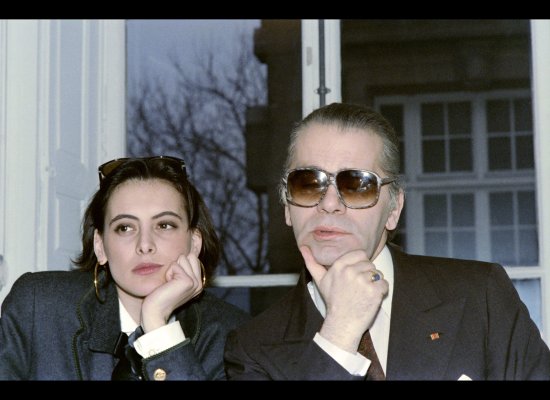 More than two decades after Karl Lagerfeld banished his original Chanel muse Inès de la Fressange from the couture house for posing as the image of Marianne, the symbol of the republic of France—declaring, "I wish her all the luck in the world, just so long as I don't have to see her any more or hear her spoken about"—he has welcomed her back into his court. This morning, Lagerfeld sent the 53-year-old French fashion model out on the runway of his Chanel 2010-2011 Spring-Summer women's wear show at the Grand Palais in Paris in a modern reinterpretation of a 1937 Chanel black lace gown and embracing her warmly before the crowd of more than 2,800 as he took his bow. "She is beyond stunning," Lagerfeld told Women's Wear Daily before the show. "Also, she is the Parisienne."
The show, set in a mammoth black and white jardin à la française with working fountains—which Lagerfeld said was inspired by Alain Resnais' 1961 film Last Year in Marienbad —was a panopoly of ideas and eras run through Lagerfeld's Chanel blender. For day, there were tweed suits with baby doll mini-dresses, micro shorts, A-line skirts and pencil skirts, in soft natural tones such as slate blue, dusty rose or goldenrod and occasionally flecked with sparkling crystals. For night, the dominate line was trapeze with an empire waist made of airy fabrics such as tulle and lace and decorated with feathers. (The trapeze, by the way, was invented by Lagerfeld's archrival Yves Saint Laurent at Christian Dior in 1958). The overall look was light and feminine—except for the footwear, which was mostly wedge-heeled combat-like boots that gave a Bride of Frankenstein air to it all.
De la Fressange received an ovation when she stepped out onto the soft white pea-gravel runway and strolled through the gardens in her signature slouch to an orchestra playing The Verve's "Bittersweet Symphony." Besides walking in the show, de la Fressange will be featured, along with 1990s British model Stella Tennant and Danish newcomer Freja Beha Erichsen, in Chanel's spring-summer advertising campaign, which Lagerfeld will shoot in the South of France. As de la Fressange smiled to the crowd, it was obvious she was pleased to be back at the house of Chanel.